High temperature resistant PTFE needle felt , polyester anti-static needle felt has the characteristics of acid resistance, weak alkali resistance, oxidation resistance, high tensile strength, good heat and humidity resistance, mildew resistance and high adaptability to working temperature. According to the requirements of the fabric, polyester anti-static needle punched felts use different specifications of raw materials and different organizational structures to form various products with different filtering performance and appearance. One of them is a wide range of staple fiber filter cloths. Polyester antistatic needle felt products are mainly used in chemical industry, metallurgy, food, needle felt, pharmaceutical, building materials, mining and other industries, bag filter, plate and frame filter press, belt filter, vacuum filtration and smoke dust removal, etc. Use of solid-liquid separation and solid-gas separation equipment! After the industrial dust reaches a certain level, if it encounters electrostatic discharge sparks or external ignition and other factors, it can easily cause explosion and fire. For example: flour dust, chemical dust, coal dust, etc., there is a possibility of explosion if they encounter electrostatic discharge. In the field of bag-type dust removal, if these dusts need to be collected with cloth bags, it is required that the filter bags made of dust-removing cloth bags have antistatic properties.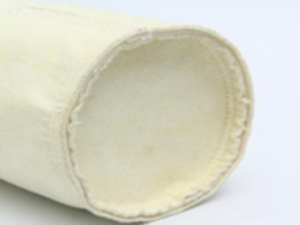 Jiangsu Fengxinyuan Filter Bag Co., Ltd. is a large-scale enterprise specializing in the production of atmospheric environmental protection dust filter bags in China. Is a high-tech enterprise that advocates "green" life and takes the development of environmental protection technology as the leading industry. Its purpose is to "follow the laws of nature, promote social and economic development, enable the natural environment and resources to be fully, reasonably and effectively operated, and make people closer and harmonious with nature." And through highly personalized and highly coordinated work to achieve the information connection, communication, transformation and resonance of resources, aiming at the unlimited potential of human beings, actively engaged in the development and application of technologies to reduce pollution, eliminate pollution and beautify the environment.
Recommended by Jiangsu Fengxinyuan Environmental Protection Group Co., Ltd.
Application areas: 化工 电子 食品饮料 金属加工 石化 油漆和瓷漆 微电子 制药 树脂塑胶 油墨和涂料 水处理 Automotive industry chemical electronics food beverage metal processing petrochemical paints and enamels microelectronics pharmaceutical resin plastic inks and coatings water treatment
Long tail words often searched by users: 生产厂家 价格 品牌 厂家直销 批发 公司 厂商 供应商 Manufacturers manufacturers prices brands manufacturers direct sales wholesale companies manufacturers suppliers
Brands of Jiangsu Fengxinyuan Environmental Protection Group cover cities: Shijiazhuang, Tangshan, Qinhuangdao, Handan, Xingtai, Baoding, Zhangjiakou, Chengde, Langfang, Hengshui, Shanxi, Taiyuan, Datong, Yangquan, Changzhi, Jincheng, Shuozhou, Xinzhou, Jinzhong, Linfen, Luliang, Yuncheng, Inner Mongolia, Alashan League, Xing'an League, Xilinguole League, Hohhot, Baotou, Wuhai, Chifeng, Tongliao, Ordos, Hulunbuir, Shenyang, Dalian, Anshan, Benxi, Dandong, Jinzhou, Fuxin, Liaoyang, Tieling, Chaoyang, Huludao, Jilin, Changchun, Siping, Tonghua, Baishan, Liaoyuan, Baicheng, Songyuan, Yanbian, Heilongjiang, Harbin, Qiqihar, Mudanjiang, Jiamusi, Daqing, Jixi, Shuangyashan, Yichun, Qitaihe, Hegang, Heihe, Daxinganling, Xiamen, Zhangzhou, Quanzhou, Sanming, Putian, Nanping, Longyan, Ji'an, Ganzhou, Jingdezhen, Pingxiang, Xinyu, Yingtan, Liaocheng, Laiwu, Kaifeng, Luoyang, Nanyang, Luohe, Xuchang, Sanmenxia, Pingdingshan, Zhoukou, Zhumadian , Hebi City, Jiaozuo City, Liyang City, Anyang City, Shangqiu City, Xinyang City Jiyuan, Huangshi, Xiangyang, Jingzhou, Yichang, Shiyan, Xiaogan, Jingmen, Ezhou, Huanggang, Xianning, Suizhou, Qianjiang, Xiantao, Enshi, Shenjiajia, Zhuzhou, Xiangtan, Hengyang, Shaoyang, Yueyang, Changde, Zhangjiajie, Yiyang, Yinzhou, Yongzhou, Huaihua, Loudi, Xiangxi, Hainan, Haikou, Anding, Lingao, Sanya, Chengmai County, Wuzhishan City, Wenchang City, Qionghai City, Wanning City , Dongfang City, Qiongzhongli Miao Autonomous County, Baoting Li Miao Autonomous County, Baisha Li Autonomous County, Changjiang Li Autonomous County, Ledong Li Autonomous County, Lingshui Li Autonomous County, Tunchang County, Liuzhou, Guilin, Wuzhou, Beihai, Fangchenggang, Qinzhou, Guigang, Yulin, Baise, Hezhou, Hechi, Laibin, Chongzuo, Chongqing, Mianyang, Zigong, Panzhihua, Luzhou, Deyang, Guangyuan, Suining, Neijiang, Leshan, Ziyang, Yibin, Nanchong, Dazhou, Ya'an, Guang'an, Pakistan Zhongshi, Meishan, Liangshan, Aba, Deyang, Ganzi, Guizhou, Guiyang, Zunyi, Anshun, Liupanshui, Bijie, Southeast Guizhou, Qiannan Southwest Guizhou, Tongren, Zunyi, Kunming, Qujing, Chuxiong, Zhaotong, Baoshan, Lijiang, Pu'er, Lincang, Dali, Honghe, Nujiang, Wenshan, Dehong, Xishuangbanna, Diqing, Yuxi, Tibet, Lhasa, Shigatse City, Changdu, Linzhi, Shannan, Naqu, Ali, Shaanxi, Xi'an, Tongchuan, Baoji, Xianyang, Weinan, Yan'an, Hanzhong, Yulin, Ankang, Shangluo, Gansu, Lanzhou, Jiayuguan, Jinchang, Baiyin, Tianshui, Wuwei, Zhangye, Pingliang, Jiuquan, Qingyang, Dingxi, Longnan, Gannan, Linxia, Qinghai, Xining, Haidong, Haibei, Haixi, Yushu, Huangnan, Guoluo, Ningxia, Yinchuan, Wuzhong, Guyuan, Zhongwei, Xinjiang , Urumqi, Changji, Yili, Altay, Tacheng, Karamay, Shihezi, Wujiaqu, Turpan, Hami, Aksu, Hotan, Alar, Tumshuk, Kashi, Bayan Golen, Kizilsu Kirgiz, Boltara